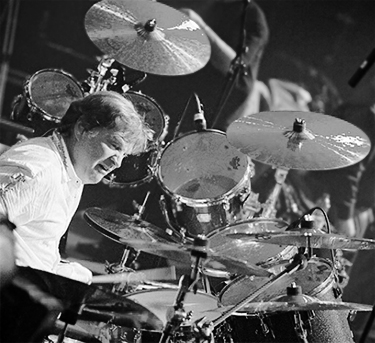 Endorsements
Paul Leim is endorsed by, and has signature products available by:
Yamaha Drums, Paul Leim Platinum Series Signature Snare
Paiste Cymbals
Remo Drum Heads
Vic Firth Paul Leim Platinum Series Signature Stick
Shure Microphones
Big Bang Distribution, Studio Cans and Metrophones
Paul uses the following gear for his live shows
This is his backline callsheet:
2 24″ or substitute 22″ inch Bass Drums with pedals OR 1 24' Bass Drum with Double Yamaha pedal set. It must be a double pedal set for Elvis material.
14 x 5.5 inch snare Brass or Chrome over Brass preferred. Ambassador Coated head.
Snare stand
4 Toms. 10, 12 and 14 in. (3) rack toms mounted on 2 separate floor stands. (13 inch can be substitute 14). 1 16″ floor Tom. (3 Toms Minimum!) Remo Emperor Clear (top) Ambassador (bottom)
2 Separate Floor Tom Stand ala (Yamaha ws 955)
Drum Thrown (seat)
1 hihat stand to accommodate high hat cymbals
Cymbals: Preferably Paiste Signature Cymbals
1 set (2) 14" hi hat cymbals Dark Crisp or Dark Energy Paiste Hi Hats Preferred
1 20" in. Dry Ride or Heavy Ride
1 20" in. Signature Crash
1 18" in. Twenty Series or Dark Energy Crash
1 17" in. Full Crash
1 18" Thin or Dark China
5 boom style cymbal stands for crash and ride cymbals
Music Stand and Stand Light
Optional: Tom mount Piccallo snare used in as highest tom.
For Programming and Live Electronic Drums:
Yamaha Multi-Pad 12
Yamaha DTX-900 Full Electronic Kit
Yamaha RS-7000 Workstation
Abelton Live
Moto Digital Interface